Calendar in TaxWorkFlow allows you to manage your meetings and other events straight from the application. You can learn how to sync your existing calendar with TaxWorkFlow at "Office settings" chapter.
To open calendar go to Dashboard and click on the "Calendar" tab. The list of calendars will be shown at the top left corner of the window: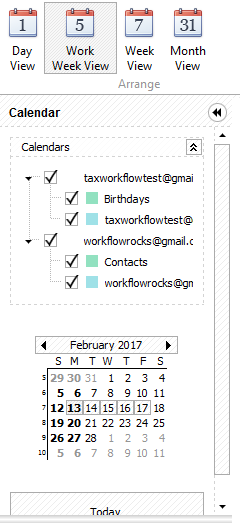 Using "Day View", "Work View", "Week View", "Month View" and "Timeline View" buttons you can change the view of the calendars according your needs.
"Compress Weekend" button unites Saturday and Sunday into one column for a "Month View".
"Working Hours" button shows only working hours in "Day View" or "Work Week View". Also for these two views you can change a time scale by clicking an appropriate button and selecting values from 5 to 60 minutes.

"Group by None" button will show you events of all calendars at the same screen while "Group by Calendar" button allows you to see all calendars separately on the screen:
To add a new event click "New Appointment" button or double click on the place of the calendar where you want a new event to appear. The application will open "Edit Event" window or ask you to select a calendar where a new event must be posted in case you have more than one calendar: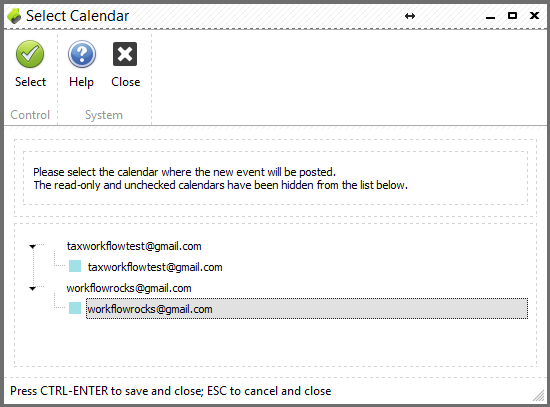 Next double-click on the calendar or press a "Select" button. In the "Edit Event" window enter the subject of the event, its location (if necessary), start and end time (use "Show Time Zones" button to select a timezone). Check "All day event" box if necessary. Add message to the appropriate field: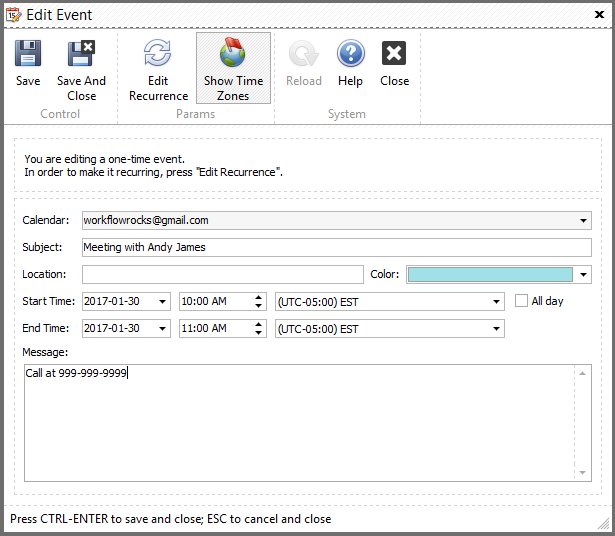 Click "Recurrence" button if you need this event reoccur. To set up recurrence first enter the start and end time of the event: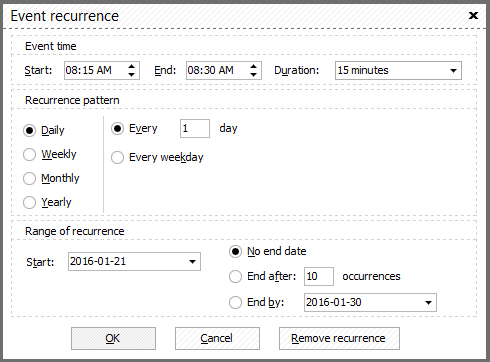 Then select recurrence pattern from 4 available - Daily, Weekly, Monthly or Yearly.
For daily recurrence you can set up the event to reoccur every weekday or every 1st, 2nd, 3rd etc day.
For weekly recurrence select the day of the week the event must recur and determine the number of weeks between events: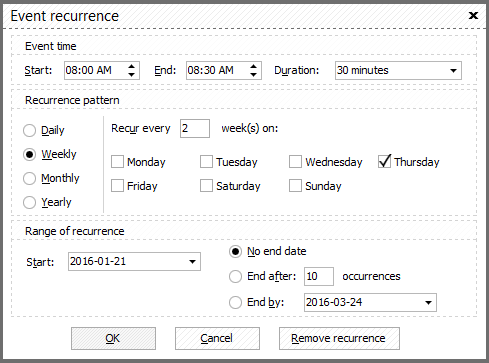 For monthly recurrence you can set the event to recur on the certain day of every 1, 2, 3 etc months or you can set it up to recur on the certain weekday every 1, 2, 3 etc months: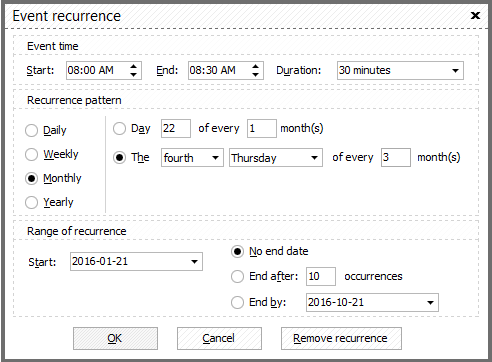 Yearly recurrence allows you to set up the event to recur on the certain day/weekday of the certain month: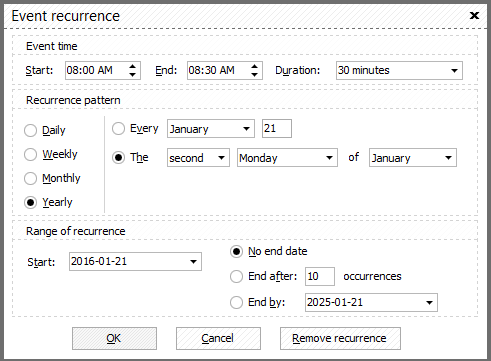 The last thing you need to set up in this window is "Range of recurrence".
Determine a start date and select when the event must stop to recur if necessary. Here you can select a certain date or the number of occurrences before it stops to recur.
To stop recurrence manually simply click "Remove recurrence" button.
All parameters you set for the event can be edited later. Just double-click on the event to edit it and select if you want to edit this particular event or the series of events. Another way is to select the event by mouse click and click "Edit" button. To open an event you can also click right-mouse button and select "Open" from the appeared menu: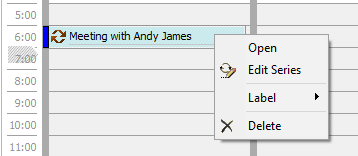 Please note, clicking "Edit" Series" will allow you to edit the recurrency.
From here you can also change "Label" colors or you can delete the event.
Please note, you can drag-n-drop the event if its time and/or date need to be changed.