PDF printer is a simple way to upload your file in PDF format straight to the database from any editor. This printer is installed during the TaxWorkFlow installation process. In the same topic you can find how to setup your firewall in case it blocks the installed printer.
To upload a document to the database in PDF format send it to printer and select a TaxWorkFlow PDF Printer from the list of available printers. Depending of the application you're using this dialog may look in different ways. When the printer is selected and you see that it's ready you need to click "Print" button.
Then you will be prompted to select a folder for the document. Also you will need to enter a document title and assign a document to the client: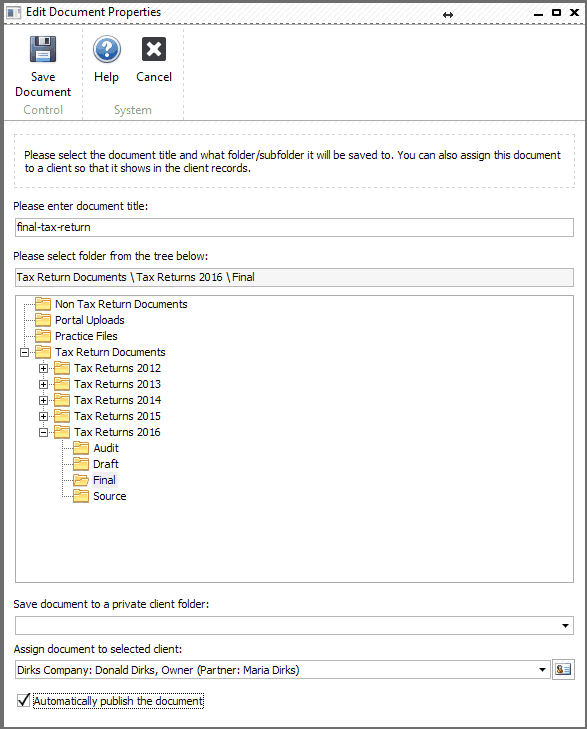 Check "Automatically publish the document" if you wish it was available to the client from the portal.
Click "Save Document" button and PDF will be uploaded to TaxWorkFlow database.
If you need to protect your documents with a password you must setup your PDF printer respectively:
Go to Control Panel >> Hardware and Sound >> Devices and Printers. Right mouse click on the TaxWorkFlow PDF Printer and select "Printing preferences":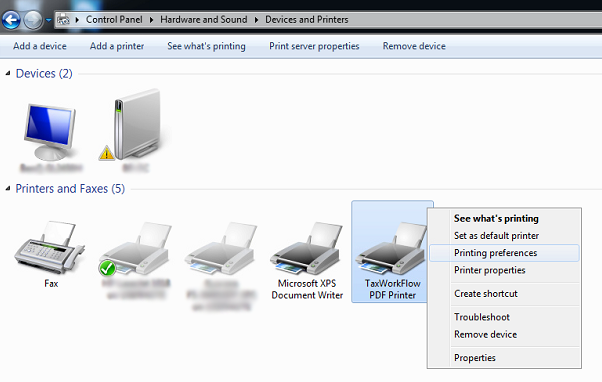 Select PDF Properties tab, check "Password-protect the documents" and select one of the following options:
•prompt for password each time
•automatically protect with the default password
Set default password if necessary and click OK