Make sure QuickBooks application is installed on your PC.
If you have the error like this one: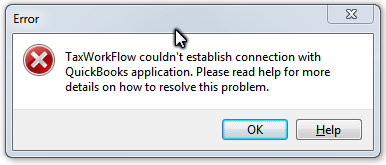 1. Check if QBFC13.0 is installed on your PC.
2. If QBFC13.0 is not installed please install it from http://thetaxworkflow.com/release/QBFC13_0Installer.exe or from TaxWorkFlow application folder.
3. Restart TaxWorkFlow after QBFC13.0 installation is complete.
4. If you're sure that QuickBooks application and QBFC13.0 are installed and you still get the error then restart QuickBooks application and TaxWorkFlow.