Q: How can I set up my email?
A: Select the "File>Edit Connections" menu item. In the window that appears, open the "Outgoing Email" tab. Here you can enter your email settings and test them to ensure your email is working properly. You can find detailed instructions in TaxWorkFlow or in the online help content.
Q: I have found that when I assign the project to one of my employees, it sends an email out to all of my employees. I want to send an email to only the employee that is handling the associated account. Is this possible?
A: Unfortunately, you cannot select which notifications you would like to receive in TaxWorkFlow. There are currently two options: receive all notifications or receive no notifications. There are future plans to enhance this functionality.
Q: Can TaxWorkFlow's email module integrate with Gmail?
A: Yes, the TaxWorkFlow email module can integrate with Gmail, Hotmail and other email services. It can also integrate with Microsoft Exchange.
Q: Is there any type of instant messaging in the application?
A: No. TaxWorkFlow does not currently have instant messaging functionality.
Q: Can I import previous emails into the application?
A: Yes. All emails are stored in the Document Management System so you can easily import any documents including emails to the system using an "Import documents from folder" option.
Q: Can a built-in email system be synchronized with a Google account?
A: Yes.
Q: How often does email sync? Can it be set to sync when you tell it to? Or is it a specific time of day?
A: By default it syncs continuously.
Q: My email service blocks TaxWorkFlow when it tries to sync the email. How can I resolve this issue?
A: Open your mailbox in browser. Here you can find a new message about blocking the application or some pop-up alerts. Follow the instructions to grant TaxWorkFlow an access to your email account. You can find an example how to do it for your Gmail account here.
Q: How can I setup email templates? Where can I find a list of macros I can use in my email templates?
A: Please use appendix A of this guide to get a full information about macros, how and where they can be used. Examples of templates with macros are also available in appendix A.
Q: How to turn off email problem prompt? I don't want en email template opens upon problem creation.
A: To turn off email problem prompt you can change problem's scope from Client-related to Staff-related. To perform these changes you can open "Administration">"View problem templates" and change each template manually: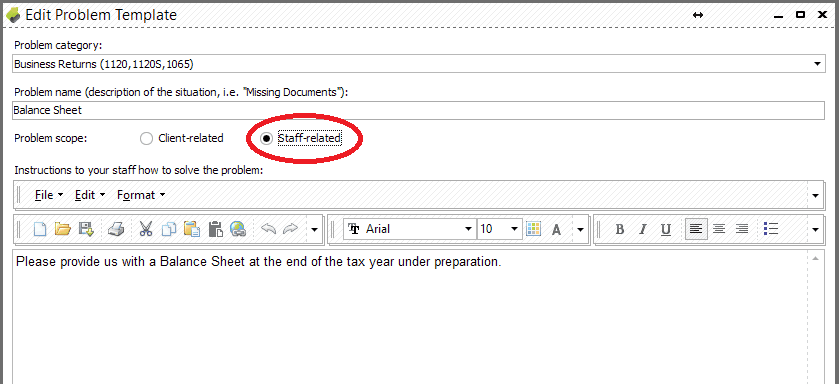 Q: Email messages sent from Office 365 account to AOL or Verizon emails are bounced with the following error message: Remote Server returned '521 5.2.1 : AOL will not accept delivery of this message.'
A: Please use this article to setup your Office 365 email: https://support.office.com/en-us/article/How-to-set-up-a-multifunction-device-or-application-to-send-email-using-Office-365-69f58e99-c550-4274-ad18-c805d654b4c4