When accounts are set you can start to create invoices. For this purpose go to "Billing"-> "Create invoice...":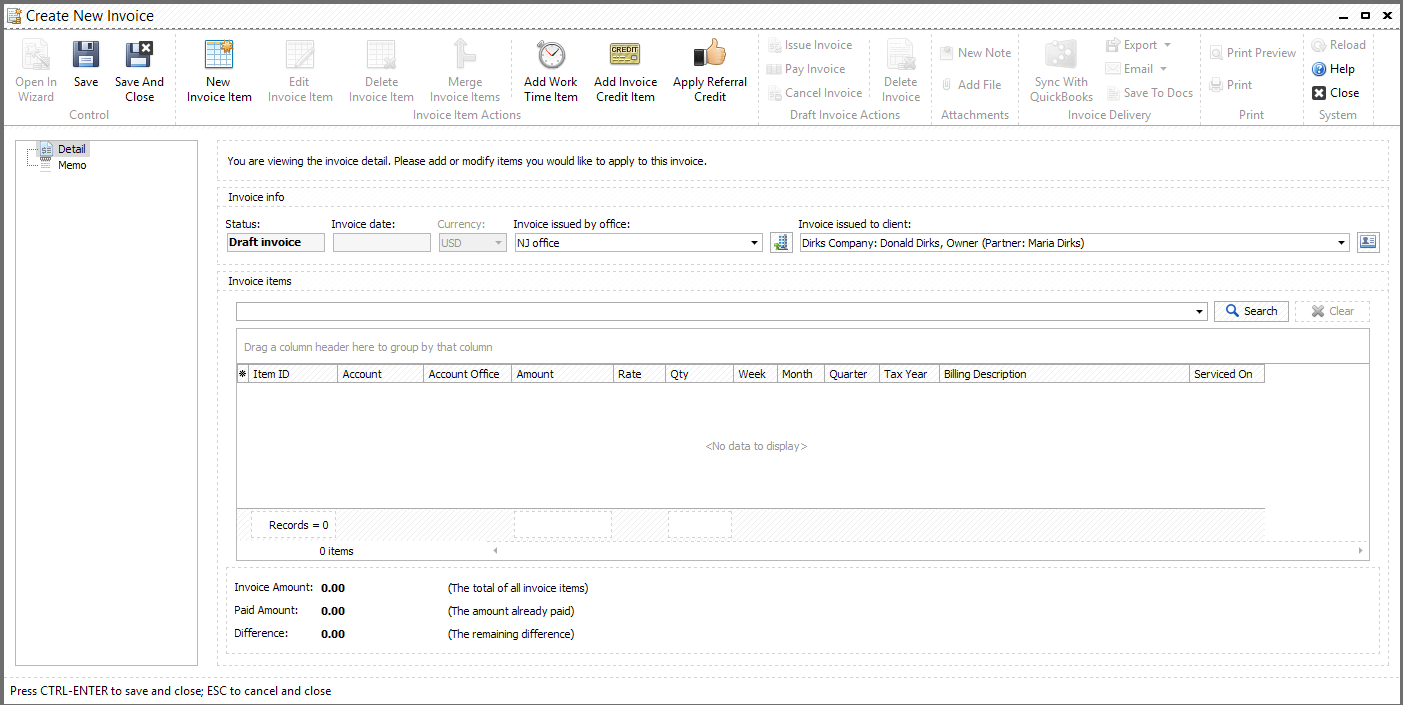 In this window first you need to select a client and an office which serves this client. You can also add some memos to the invoice. When these steps are completed you need to add items into it. Click "New Invoice Item" button: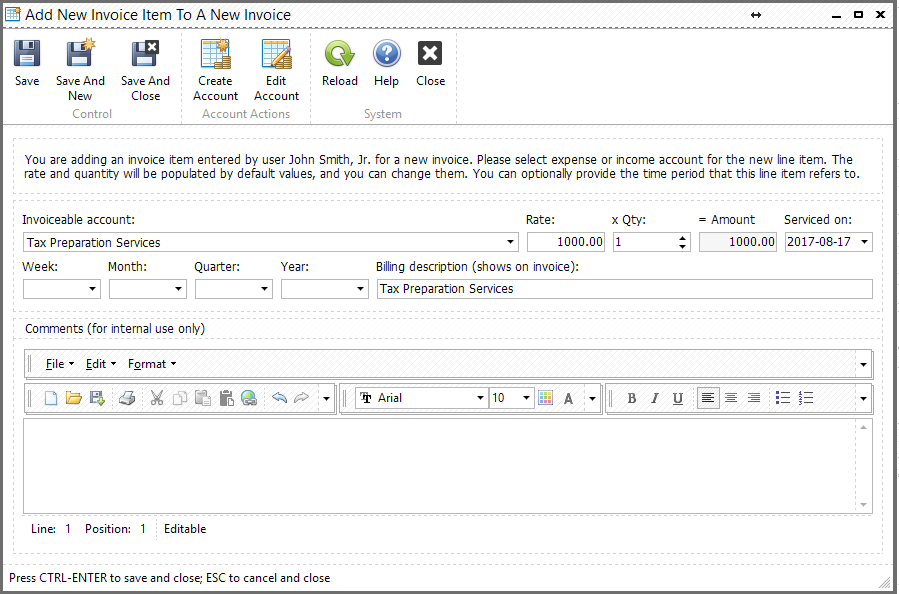 Select a necessary account to add, modify rate, quantity and the date when it was serviced if you need to. You can also enter a week, month or quarter of selected tax year. Add billing description (will be shown on the invoice) and comments (will not be shown on the invoice, for internal use only) if you have some.
"Create Account" and "Edit Account" buttons allow you to open appropriate windows from here and make necessary changes. After all fields are filled you can simply add another item to the invoice clicking "Save and New" button. "Save and Close" button will add the item to the invoice and close the window while "Save" button will save the data and leave the window opened.
To enable all invoice operations you need to save a draft invoice. Upon it's saved you can still add new items to the invoice, edit, merge and delete existing items. Among the others invoice items you can add:
•Work Time Item - opens a list of billable work time for the client from where you can select what time to include to the invoice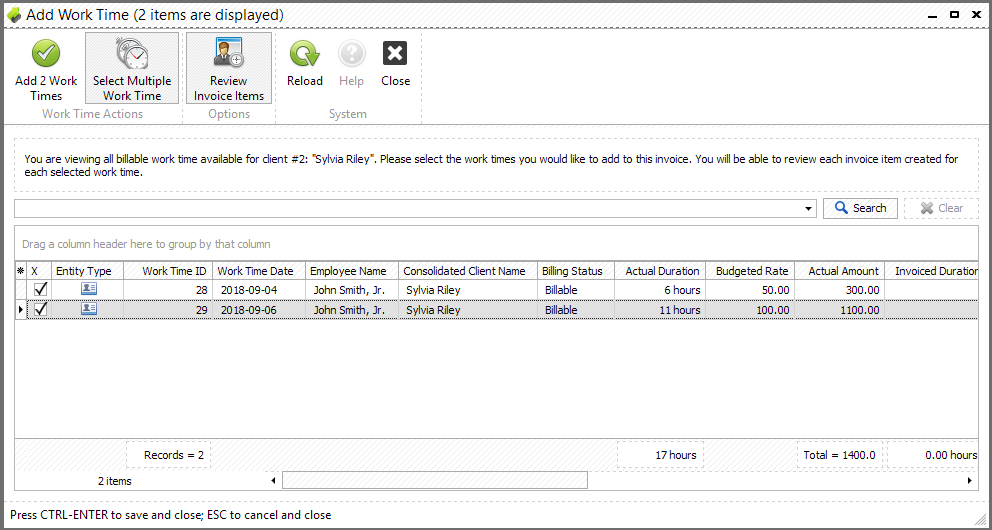 •Invoice Credit Item - allows to apply an invoice credit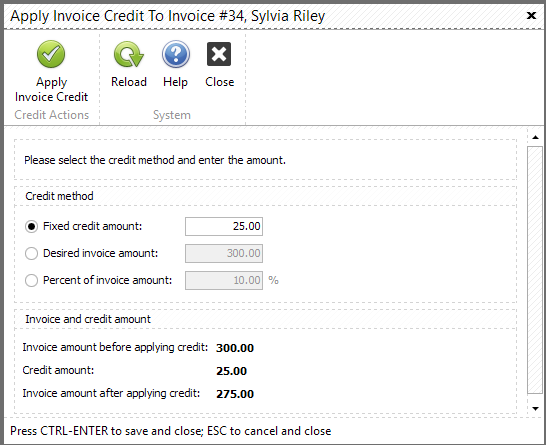 •Apply Referral Credit - allows to apply referral credit to the invoice (see more in Referrals chapter of this guide)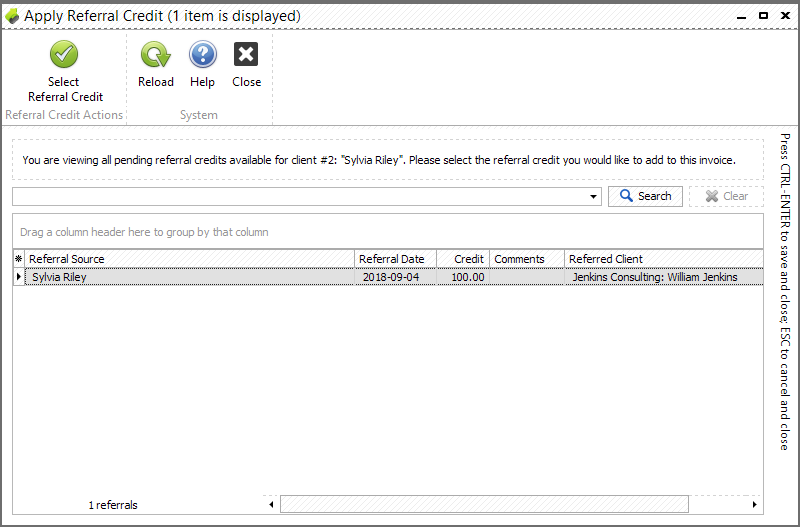 Also the following buttons are available upon invoice saving:
•Issue invoice - changes invoice status to "Final invoice". You can reverse the invoice back to draft invoice by clicking an appropriate button later.
•Pay invoice - opens "Receive New Payment" window (see more information about Payments)
•Cancel invoice - changes invoice status to "Cancelled"
•Change invoice date - allows to change invoice date (available for invoices with a status of "Final invoice")
•Delete invoice - deletes currently opened invoice
•New note - allows to add notes to this invoice
•Add file - allows to attach files to the invoice
•Sync with QuickBooks - syncs the invoice with QuickBooks
•Export - exports file to Excel or PDF document
•Email - opens "Invoice attachment email template" in email editor with attached XLSX or PDF file and prepopulated client's email address
•Save to docs - opens "Edit document properties" window (see Uploading documents chapter)
•Print preview - allows to preview the document and design and format it before printing. See detailed description of this option in "Invoice print preview" chapter
•Print - opens a print dialog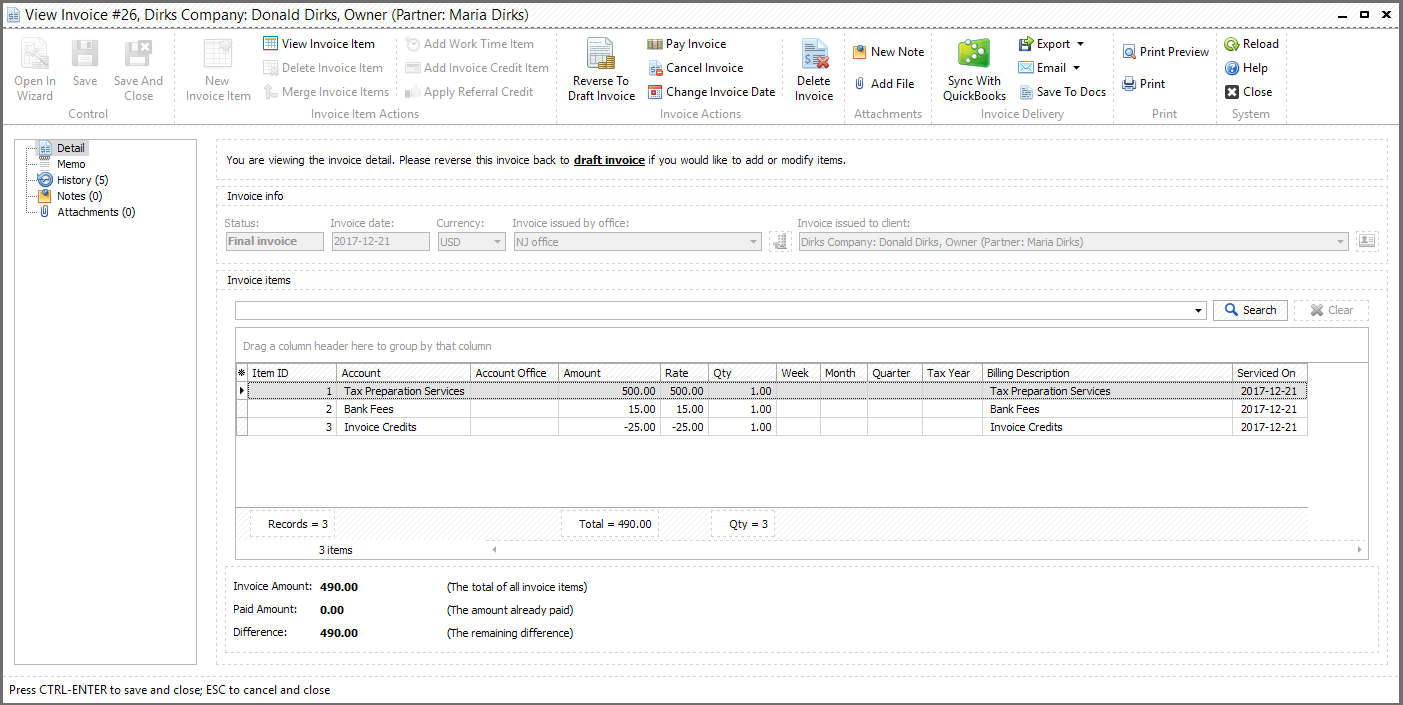 You can manage all created invoices from one place. Go to "Billing"-> "View invoices...":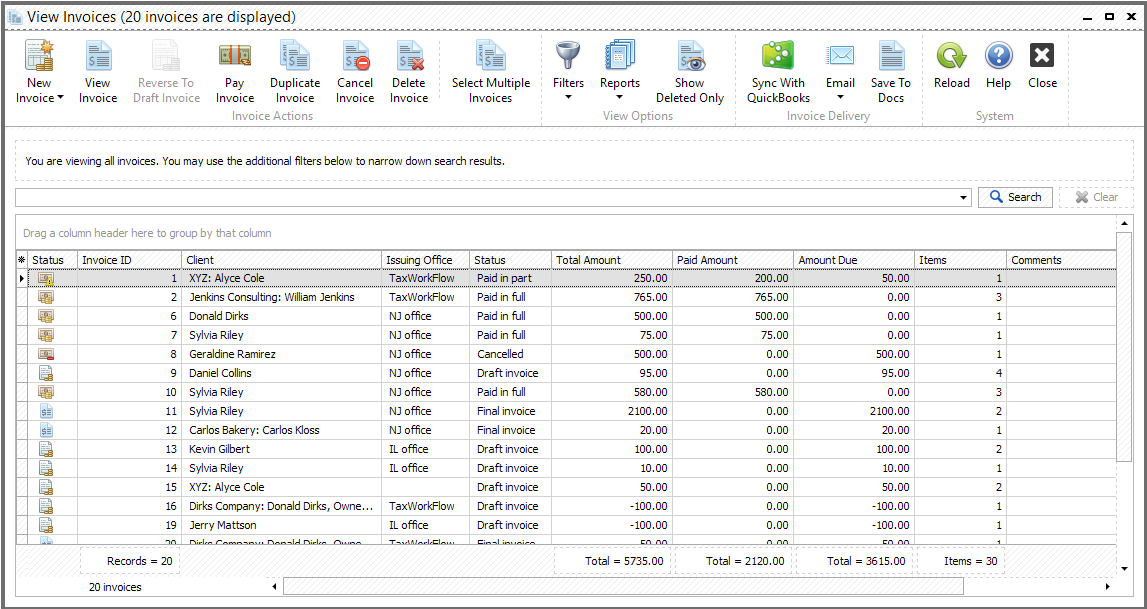 Most operations available in "Edit Invoice" window are available there too. Also from here you can duplicate invoice (create a new draft invoice which is a copy of selected invoice. For example, this could be useful if you need to create similar invoices for different clients) and work with multiple invoices at once.
"Select Multiple Invoices" button allows you to delete, export to Excel or PDF and email selected invoices independently of their status. If statuses of all selected invoices allow the operation you can issue, pay, cancel invoices, reverse them to draft invoices.
Previously deleted invoices could be shown by clicking "Show Deleted Only" button. Please find out how to work with Reports in the "Reports management" chapter. "Filters" button allows you to customize the invoices displayed in the grid. Below is a list of all available filters with their description:
| | | | |
| --- | --- | --- | --- |
| Filters group | Filter name | Description | Period, assuming today is Wednesday, April, 5, 2017 |
| Invoice status | All invoice statuses | All invoice statuses | |
| | Draft invoice | Draft invoice | |
| | Final invoice | Final invoice | |
| | Paid in part | Invoices paid in part | |
| | Paid in full | Invoices paid in full | |
| | Cancelled | Cancelled invoices | |
| | | | |
| Issuing office | All offices | Issued by all offices | |
| | "Your office name" | Issued by "Your office name" | |
| | etc | A list of all offices of your company | |
| | | | |
| Invoices for period | All history | No time period applied | All invoices displayed |
| | Today | Today only | All invoices created on April 5, 2017 |
| | Yesterday | Yesterday only | All invoices created on April 4, 2017 |
| | This calendar week-to-date | From Sunday of the current week through today | All invoices created in the date range from April 2, 2017 till April 5, 2017 |
| | This calendar month-to-date | From the first day of the current month through today | All invoices created in the date range from April 1, 2017 till April 5, 2017 |
| | This calendar quarter-to-date | From the first day of the current quarter through today | All invoices created in the date range from April 1, 2017 till April 5, 2017 |
| | This calendar year-to-last-month | From the first day of the current year through the last day of last month | All invoices created in the date range from January 1, 2017 till March 31, 2017 |
| | This calendar year-to-date | From the first day of the current year through today | All invoices created in the date range from January 1, 2017 till April 5, 2017 |
| | Since one week ago | All dates since one week ago | All invoices created in the date range from March 29, 2017 till April 5, 2017 |
| | Since one month ago | All dates since one month ago | All invoices created in the date range from March 5, 2017 till April 5, 2017 |
| | Since one quarter ago | All dates since one quarter ago | All invoices created in the date range from January 5, 2017 till April 5, 2017 |
| | Since one year ago | All dates since one year ago | All invoices created in the date range from April 5, 2016 till April 5, 2017 |
| | Past calendar week | Sunday through Saturday of past week | All invoices created in the date range from March 26, 2017 till April 1, 2017 |
| | Past calendar week-to-date | From Sunday of past week through today | All invoices created in the date range from March 26, 2017 till April 5, 2017 |
| | Past calendar month | From the first day through the last day of past month | All invoices created in the date range from March 1, 2017 till March 31, 2017 |
| | Past calendar month-to-date | From the first day of past month through today | All invoices created in the date range from March 1, 2017 till April 5, 2017 |
| | Past calendar quarter | From the first day through the last day of past quarter | All invoices created in the date range from January 1, 2017 till March 31, 2017 |
| | Past calendar quarter-to-date | From the first day of past quarter through today | All invoices created in the date range from January 1, 2017 till April 5, 2017 |
| | Past calendar year | From the first day through the last day of past year | All invoices created in the date range from January 1, 2016 till December 31, 2016 |
| | Past calendar year-to-date | From the first day of past year through today | All invoices created in the date range from January 1, 2016 till April 5, 2017 |
| | Before... | All dates before the date you specify | All invoices created in the date range from date you specify till April 5, 2017 |
| | After... | All dates after the date you specify | |
| | Custom range... | The date range you specify | |